Very good Italian teacher
Teacher Online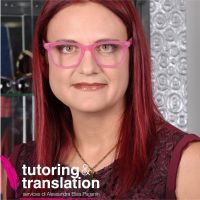 Name: Alessandra
Age: 35
Native language:Italian/French
Location: Esino Lario - Lake of Como
Time zone: Rome
Price: from € 18,00 to € 25 depending on the number of lessons
Rating: 100% positive
Detailed profile
About me
Hello to everyone!
My name's Alessandra and I'm 35. I was born and partially raised in Esino Lario (near Lake of Como) and I spent some of my childhood in France (My mum is French), so French and Italian are my native languages. Esino Lario is a little village near the Lake of Como, a well known place by tourists. It's a peaceful and green environment. I've also lived two years in the UK, in the Worcestershire, where I taught French and Italian to English speakers(all ages).When I moved back to Italy I started as a free lance teacher & Translator and oped my office.I've been working with some online language schools,translation agencies and websites, I've also taught students directly coming to my office, while enjoying a nice holiday here.
I like travelling, animals, reading (especially literature, my favourites are Zola, Dickens and Pirandello), meeting new people and learning about their traditions and customs.
I absolutely love teaching and since I graduated I've been teaching Italian, French and English and made lots of friends.
I'm a joyful and positive person and I work hard.
I can promise you a learning experience that will be worth your money, helping you learning the language and enjoying lessons at the same time.
Qualifications & Experience
I have been studying languages both at the college and at University. I graduated in Milan in Languages and Communication in 2005 at the Università Cattolica del Sacro Cuore (110/110 top of my year). My thesis was in French literature, about Zola's novel "La curée".
I've been teaching&translating since 2007, and I've also experienced teaching children from 5-6years old.
Here some examplesof my students' feedbacks:

BEST TEACHER WE'VE EVER HAD!!!

I and my girlfriend have had the pleasure of taking online Italian language classes for beginners with Alessandra for the last month. Alessandra makes the class personable and fits it to your needs. She is very capable in explaining small subtle differences in context and nuance, something a lot of teachers lack. At the same time, she has a way of understanding the amount of progress one has achieved and respond accordingly. She has been very flexible with scheduling (very useful for someone with a busy schedule as us) and provides a wealth of resources for further studying. We have both reached a level where the language makes sense, an impressive feat after only a month. I would highly recommend anyone looking for a knowledgeable and competent teacher to strongly consider Alessandra.

I have been learning italian with Ale for 10 months now. I have found our lessons enjoyable and informative. Ale is very friendly, professional, patient and approachable.

I was lucky enough to stay in Ale's apartment for 3 weeks in August this year. Every day I had between 3 to 5 hours of lessons and made great progress during this time. It was also lovely to meet Ale's welcoming family.

Esino Lario is a beautiful little village, high in the hills above Il Lago di Como, 12 kms from Varenna. This is a non tourist village with friendly people, beautiful old cobblestone streets and stone houses, great walks and excellent bike riding on the roads and mountains around Il Lago di Como. It has a great market on Tuesday mornings so you can buy delicious Italian fresh produce.

It was a great experience to be able to immerse myself in italian culture, language and food for 3 weeks and connect with my italian heritage. My husband rode his bike every day, so he was also happy!!

Family of 4 learns Italian together

We are a family of 4 from California, two adults and two kids, age 10 and 8. We had about 5 months of 1 hour per week lessons before a trip to Italy in October 2013. Ale was somehow able to have a class for a family of 4 with radically different language learning abilities! During our trip, we felt we could understand the language enough to navigate most interactions with Italian speaking natives, as well as get all around Italy by car without trouble. We shopped for groceries, asked about restaurants, ordered food, figured out directions all in broken Italian.

Our host at one agriturismo, who only spoke Italian, was totally impressed with the kids' ability to sing Italian children's songs without a noticeable accent!

We were able to visit Ale in her darling town of Esino Lario; I totally recommend it if you want off-the-beaten path Italy. We couldn't fit in Ale's flat, but we stayed in the flat of a friend that was perfect. We had two lessons with Ale while we were there which was fun, but what I would REALLY recommend is to take time for intensive language training with Ale when you are there. We will do that next time.

We are continuing with lessons with Ale after our trip, and now we are actually more motivated to learn and are making great strides.

Ale is professional, funny, prompt, kind, and really good at what she does. I recommend her heartily.

Anne, Tom, Maggie, Dominic
Teaching Approach
Italian and French are my native languages. I can teach you how to use perfect Italian in everyday conversations as well as for your business. I've been studying Italian grammar, phonetics and literature for a long time. I can also help you passing your exams, translating difficult poems and novels, putting together a resume or writing a thesis.I have a wide variety of books, pdf, exercises and audios.
When I teach languages I try to concentrate both on grammar and vocabulary, enjoying our lessons and also teaching you something about our culture and learning from yours.
à bientôt, a presto, talk to you soon!!!