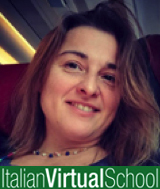 Silvia
Age: 41
Native language: Italian
Location: Turin
Time zone:Italy
Price: from € 20 to € 25 depending on
number of lessons
Detailed profile
Ciao! My name is Silvia and with big enthusiasm on 2014 I opened Italian Virtual School, which is an Online School of Italian.
My purpose with Italian Virtual School is providing Italian Courses to people living outside Italy that want to have a direct contact with a native Italian teacher and to have an high quality of learning.
My degree is in Philosophy. I love to analyze things deeply, understanding their true nature, and I think this is reflected in the way I teach.
I believe that learning is an extremely natural process. Guiding the student through such an adventure gives me great pleasure.
Qualifications & Experience
I have been teaching Italian in several contexts along the years. I have started at the University of Galway in Ireland teaching to young and to adult students. At the same time I taught in some informal contexts in the city of Galway with the purpose of enhancing the conversational skills of adult people liking the Italian language and culture.
When I came back to Turin I started teaching at FCA, Fiat Chrysler Automobiles, to foreigner managers and emploees and sometimes to their wives or husbands. At the same time I taught to the students of two Italian Language Schools in Turin in individual and in group classes.
About my studies, I took the degree in Philosophy in Rome and then the Master Degree in Teaching Italian to Foreigners provided by the University of Foreigners of Perugia.
Also, I took the Ditals II Certificate provided by the University of Foreigners of Siena together with a Language Teaching Course at the Torre di Babele of Rome at the beginning of my experience.
Teaching Approach
I use a communicative approach. My idea is that language is first and foremost a means of communication.
I like establishing a positive relationship with the student first, it will be the base of the work that we are going to do together.
I like using different kind of materials according to the level of the student and to his/her characteristics.
I think that it is important for the student having the opportunity of dealing with all aspects of language during the course: conversation, writing, comprehension, vocabulary improvement, study of the grammar.
I hope we will do all these things together!